Welcome to April's First Friday Freebie featuring Kira from

KiraArts

! During the monthly First Friday Freebies, you'll get a blog's eye view into the shop, get to know the artist, and get a chance to win something awesome!
A blog's eye view of KiraArts:
Meet the Artist
Kira Sinclair
RNEST: Tell us a little about yourself.
Kira:
I'm 30 years old and live with my husband and our dog and cat. I've always considered myself an artist. I did a lot of drawing and painting in high school and went to college for graphic design. But it wasn't until 2006, after discovering the book Stupid Sock Creatures by John Murphy, that I discovered the art of making plush. In the beginning, I made the stuffed "sock monsters" purely for my own amusement. I didn't have a sewing machine, so the monsters were completely hand-stitched at first. I would often hand sew the monsters during church (since keeping my hands busy helped me pay attention). Many times, I would give the finished monsters away to the church kids. The kids' moms all encouraged me to start selling my monsters, and one day one of them told me about Etsy. My husband bought me a sewing machine for Valentine's Day in 2008, and that summer, I finally built up the nerve to start an Etsy shop. I participated in my first craft show that December, and prior to that show I created the "Nubbin" design. The Nubbins came from of a necessity to have some items that were simple and I could crank out assembly-line style so I could sell them at a lower price point. I understand that not everyone can afford what I charge for the one-of-a-kind sock/sweater monsters. And the Nubbins have now become one of my best-sellers!
RNEST: What's your favorite part of being an artist?
Kira:
I just love to create. And I love to create things that make people happy! Plus I find a happiness in taking something old and making it into something new, delightful, and fun!
RNEST: Tell us about your creations or techniques.
Kira:
I've borrowed techniques from the Stupid Sock Creatures book that initially inspired me (as well as its sequel Return of the Stupid Sock Creatures), but I have never directly copied any of the patterns. The technique I get the most use out of is for the big lips, but I alter it slightly to fit my needs. I primarily use sweaters now instead of socks, since there is more usable fabric and I can make bigger monsters. I can get about 3 monsters from a single sweater...one from each arm and one from the body where I make the neck hole into a mouth. I machine-sew the main body of the monster and then hand-sew the stuffing hole and the details like the lips, eyes, and heart. The Nubbins are made from new anti-pill fleece I get from the remnant bin at Joann Fabrics, with felt for the details. The Nubbins also have "safety eyes" that are child/baby safe. For stuffing, I use polyester fiberfill...which I buy by the 10 lb box!
RNEST: You've been at this for a while. Any advise for someone just starting out?
Kira:
At the risk of sounding cliché…practice makes perfect! I look back on photos of some of my very first monsters and realize how far I've come since then. And speaking of photos...when selling on Etsy, decent photography is key! You don't need super fancy equipment. A simple point-and-shoot digital camera will do fine. But make sure you have a simple background, good lighting (natural lighting is the best) and that your items are in focus. A great item can go unappreciated (and therefore unpurchased) due to bad photography.
RNEST: Any coupons or promotions at KiraArts?
Kira:
I have a secret coupon code for free shipping that I give to people who are local (Rochester or Medina, NY) so we can meet up and I can deliver their order in person. Interested parties can send me an Etsy convo before making a purchase.
RNEST: How about shows coming up? Where can we find you locally?
Kira:
I will be at Mayday Underground at the Village Gate in Rochester NY on April 27th.
RNEST: So, tell us about your giveaway item.
Kira:
I have been yearning for spring, so I've made a Bunny Nubbin with floral-print ears. It's made from white anti-pill fleece, with floral-print flannel lining the inner-ears, and a white pom-pom for the tail. It has black, child-safe "safety eyes", the nose/mouth is hand-embroidered with pink embroidery floss, and is stuffed with 100% new polyester fiberfill. (This item is made-to-order. Finished product may differ slightly from the picture shown. Finished size is approx. 6.5-7 inches tall and 3-4 inches wide.)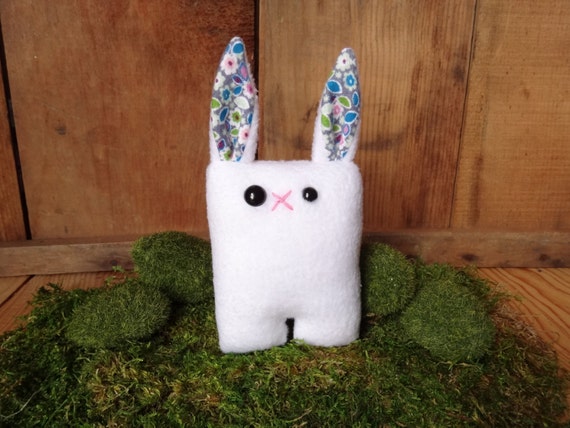 The Giveaway - Open to the US only
Floral Print Ears Bunny Nubbin
To enter
MANDATORY ENTRIES
1. Follow this blog.


2. Stop by
KiraArts
and give it a heart.
If you're already a fan, just say so in the comments.
ADDITIONAL ENTRIES:
1. Pick a favorite** piece in
KiraArts
and:
Tweet it using the Twitter button on the listing. (one entry)
Like it using the Facebook button on the listing. (one entry)
Pin it using the Pinterest button on the listing. (one entry)
**multiple favorites = multiple entries!!
2. Tweet the contest using the Twitter button at the bottom of the post.
3. Share this contest on Facebook using the Facebook button on the bottom of the post.
This contest will run until April 12.
The winner will be selected using a random number generator so anyone can win!
Good Luck!
* Please post all entries below and remember to comment for each entry so that your multiple entries are counted.