Welcome to the June First Friday Freebie featuring John Ballou from Jackbear Stamps! During the monthly First Friday Freebie, you'll get a blog's eye view into the shop, get to know the artist, and get a chance to win something awesome!
Meet the Artist
John Ballou
RNEST:
Tell us a little about yourself.
John:
I am a husband, father, brother, and uncle. I have a full time job at the University of Rochester, which is where I also got a B.S. in Environmental Science. I grew up in northern New York state on the northern edge of the Adirondack mountains. I started hand carving rubber stamps in 2003. My first stamp was a bear paw with my trail name for letterboxing, "jackbear". That name comes from my full name, John (Jack is a nickname my great uncle used who I was named after) and Ballou (Phonetically the same as Baloo the bear in the Jungle Book).
RNEST: What's your favorite part of being an artist?
John:
The act of creation itself. Being able to ink up a stamp, flip it over, press it into some paper, and seeing that magical moment of lifting it off the paper to see what is left behind. It is pretty awesome every time I do it.
RNEST: Tell us about your creations or techniques.
John:
At this point all my stamps are hand carved, one at a time by me, myself, and I. Maybe some day I'll get those vulcanizing presses I have sitting around to work, but for now, I'm cutting away with x-acto blade and linoleum gouge. I transfer an image to the rubber I use, then cut away the negative space. I like to mount on 6 mm black foam. I think it works the best for getting a nice impression on the paper. I also make some buttons, magnets, and some Artist Cards (ACEO's, ATCs).
RNEST: You've been at this for a while. Any advise for someone just starting out?
John:
It's not hard and it's not expensive to carve your own stamps. It just takes time and practice. It has taken me 10 years to get where I am now. The way I carve isn't the only way you can do it, but it is the way I have become confident in. So for advice, get sharp tools, and give yourself room to fail the first dozen times.
RNEST: How about shows coming up? Where can we find you locally?
John:
My next show will be the Dichotomy show at Java's on Gibbs Street in downtown Rochester on June 9 from 10 am to 6 pm. This will be a great show of lots of indie artists from the Rochester area. Please stop by my booth and let me know you are a fan, and I'll give you a free "Greetings from Rochester" hand stamped postcard you can use.
RNEST: So, tell us about your giveaway item.
John:
I would like to giveaway one of my Artists Cards called "Tell Tale Heart" as inspired by Edgar Allen Poe. I start with a deck of poker cards. I take out all the heart cards, and sand some of the printing off. Then I do some staining of the card, then print two hand carved stamps; one of Poe's portrait, and the "Tell Tale Heart" text with anatomical heart. On the back I date and sign each one.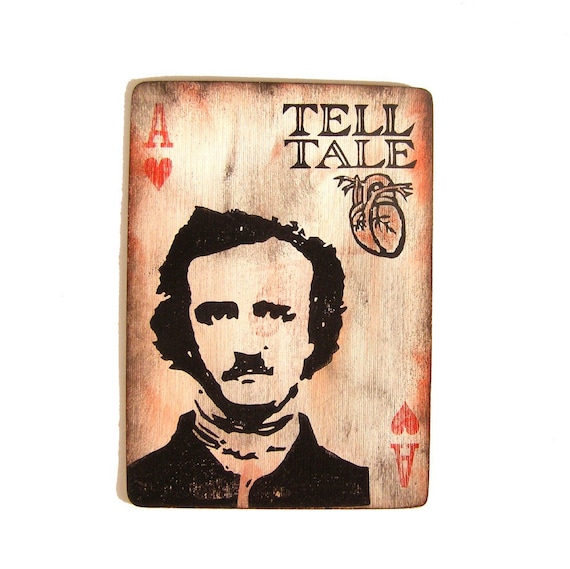 The Giveaway - Open

Worldwide
If you're already a fan, just say so in the comments.
Tweet it using the Twitter button on the listing. (one entry)
Like it using the Facebook button on the listing. (one entry)
Pin it using the Pinterest button on the listing. (one entry)
**multiple favorites = multiple entries!!
7. Share this contest on Facebook using the Facebook button on the bottom of the post.
This contest will run until Friday, June 14 at noon.
The winner will be selected using a random number generator so anyone can win!
* Please post all entries below and remember to comment for each entry so that your multiple entries are counted.