Welcome to the May First Friday Freebie featuring Kim from Pandawear! During the monthly First Friday Freebies, you'll get a blog's eye view into the shop, get to know the artist, and get a chance to win something awesome!
Meet the Artist
Kim Pandina
RNEST: Tell us a little about yourself.
Kim: I am a designer and a lapidary.

I have always enjoyed working with my hands. My father put tools in my hands to help him from a very young age. I would spend my weekends helping him change the oil or working on this car. Other adventures with him included traveling to the 1000 Islands where his dad built a cottage and we spent half my weekends every summer. We would also travel in the country and walk in the woods together. It was during my travels with my dad that I began collecting rocks as a child. Now I know how to turn them into beautiful jewelry. My love of tools grew into creating beaded jewelry. One day, about 10 years ago, I tried my first wire piece, and I have not looked back. Wire stole my heart, and I enjoy seeing where it takes me. Being a lapidary gives me the freedom to make pieces that show the beauty in each stone and to create one-of-a-kind pieces with them.
RNEST: What's your favorite part of being an artist?
Kim

:

Two things, actually. Learning a new technique and seeing how happy my pieces make the people who own them. One customer recently said the joy I have for cutting the stone is in her piece and she feels it every time she wears it.
RNEST: Tell us about your creations or techniques.
Kim

:

My designs are small wearable pieces of art. My inspirations come from nature: the curve of a branch, the angle of a leaf, the flow of a stream, the colors of a meadow. Being a native of Rochester, NY, I design my jewelry here. My media is stone and precious metals such as sterling silver and 14 karat gold filled. I am a lapidary and like to use stones I have cut myself to create my work.
RNEST: You've been at this for a while. Any advise for someone just starting out?
Kim: Find your passion and research a way to make money doing it. Be sure to have a fantastic support network behind you. My network has helped me tremendously.

RNEST: How about shows coming up? Where can we find you locally?
Kim: I do not have any shows confirmed right now. Three places that carry my work are the Rundel Library gift shop, The Bird House in Pittsford, and Jerry Williams Creative Art and Frame Shop in Greece. A new boutique in Village Gate, with a grand opening in June, has my jewelry, too.

RNEST: Any coupons or promotions at Pandawear?
Kim

:

My current promotion is a fundraiser for Women Build. The promotional items include one-of-a-kind earrings titled "Butterfly Love" and a "Mom Build" brooch. Both are limited edition pieces created for Women Build 2013 for Flower City Habitat for Humanity. Fifty percent of the sale price ($20) goes to the Women Build project which is building a home for a single mom in Rochester, NY. I use my Facebook page to announce my promotions and discounts several times a year.
RNEST: So, tell us about your giveaway item.
Kim: One of my most popular animals for earrings is dolphins. These earrings are playful and come in several colors. The winner will have a choice of the color.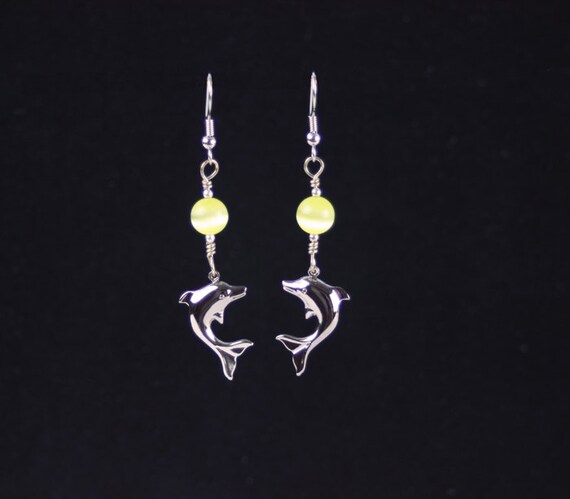 The Giveaway - Open to the US only
If you're already a fan, just say so in the comments.
Tweet it using the Twitter button on the listing. (one entry)
Like it using the Facebook button on the listing. (one entry)
Pin it using the Pinterest button on the listing. (one entry)
5. Tweet the contest using the Twitter button at the bottom of the post.
6. Share this contest on Facebook using the Facebook button on the bottom of the post.
This contest will run until May 10 at noon.
The winner will be selected using a random number generator so anyone can win!
* Please post all entries below and remember to comment for each entry so that your multiple entries are counted.